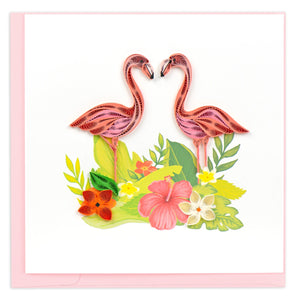 Quilled Tropical Flamingos Greeting Card NEW 2023
If you know a flamingo lover, then this quilled greeting card is the perfect way to share a note of inspiration. Flamingos are symbolic of being well balanced in life, as they are often seen perched on only one leg. This design features two flamingos amongst tropical leaves and with a quilled floral accent. The varying shades of pink paper strips in the flamingos wings gives texture to these beautiful birds.
Each quilled card is beautifully handmade by a highly skilled artisan and takes one hour to create. A quilled card is meant for you to share, treasure as a keepsake, or display as the work of art it is.
Verified Fair Trade Federation Member
Don't just send a card, send art!
---
We Also Recommend