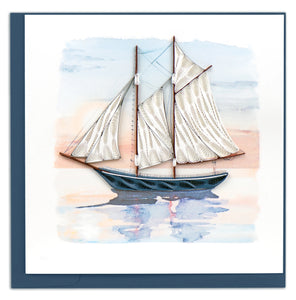 Quilled Schooner at Sunset Greeting Card NEW 2023
You can feel the breeze when you look at the schooner at sunset quilled greeting card. The quilled elements on the Schooners sails depicts the winds direction while the watercolor painted reflection of the boat depicts the time of day. This card was made from framing and is the perfect gift for a boat, beach or sunset lover. Each quilled card is beautifully handmade by a highly skilled artisan and takes one hour to create. A quilled card is meant for you to share, treasure as a keepsake, or display as the work of art it is.
Verified Fair Trade Federation Member
Don't just send a card, send art!
---
We Also Recommend