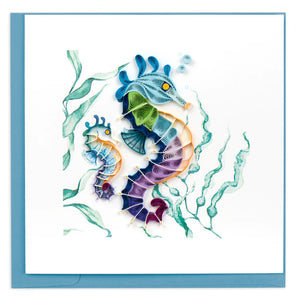 Quilled Colorful Seahorse Greeting Card NEW 2023
Our Quilled Seahorse card features two colorful seahorses in the hue of blue. The transition of the quilled colors from blue to purple and all the colors in between give texture and character to this handcrafted duo of Seahorses.
Each quilled card is beautifully handmade by a highly skilled artisan and takes one hour to create. A quilled card is meant for you to share, treasure as a keepsake, or display as the work of art it is.
Verified Fair Trade Federation Member
Don't just send a card, send art!
---
We Also Recommend