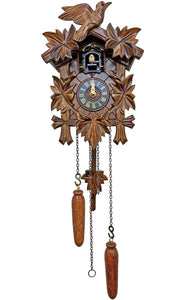 Engstler Battery-operated Cuckoo Clock - Full Size
Black Forest carved cuckoo clock made in Germany - battery-operated movement- cuckoos the number of hours on the hour - music plays on the hour - plays 12 different tunes -
Engstler is a family-run business that manufactures cuckoo clocks. 
They combine traditional techniques with innovative technology to create mechanical and quartz cuckoo clocks. 
Engstler is known for developing the first quartz cuckoo clock movement and was the only manufacturer to offer quartz cuckoo clocks for many years. 
They focus on quality, craftsmanship, and attention to detail.
uses "C" batteries (not included).
9.5"H x 6.75"W x 5.5"D

---
We Also Recommend