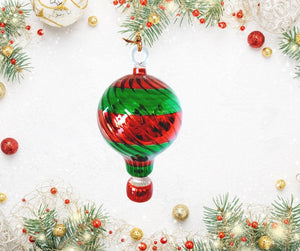 Egyptian Museum Glass Hot Air Ballon Shiny Colors SC-679 Green/ Red
This NEW line from Egyptian Museum Glass uses a technique called silvering which  is the chemical process of coating a non-conductive substrate such as glass with a reflective substance, to produce a mirror. This is then poured into the inside of the ornament. They then are hand painted with their organic colors to create this wonderful shiny cute old fashion looking ornament. 
Red & Green Hot Air Balloon Shiny Cute 5.5" high

Egyptian Museum products are all handmade, mouth-blown in Egypt of German Pyrex glass. A treasured art form from the past has become an heirloom for the future.
The Asfour Crystal Company was established in 1961. Asfour Crystal is located in Egypt and employees over 28,000 highly skilled craftsmen & women. Asfour Crystal is one of the leading crystal companies specializing in full-cut lead crystal for chandeliers, window prisms, specialty projects, jewelry and gifts.
For years Behnke Nurseries was proud to carry these beautiful ornaments by Egyptian Museum Glass. Now they are available to you on our online gift shop. Each ornament comes in different colors unless otherwise mentioned. 
---
We Also Recommend