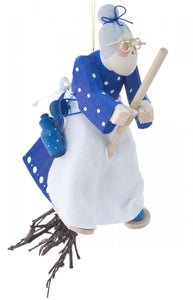 9.5" Dregeno Carved Kitchen Witch
Infuse a dash of Halloween enchantment into your living space with this delightful ornament. This enchanting piece features a whimsical flying witch on a broomstick, making it an ideal addition to your Halloween decorations or a fantastic gift idea.

Product Highlights:
- Halloween-themed hanging ornament
- Crafted in the likeness of a kitchen witch riding a broom
- Comes complete with a hanging string for easy display
- Adds a captivating and spooky flair to your Halloween decor
- Designed by the talented artisans at Dregeno
- Meticulously crafted in Germany
- Intended for indoor use only

Dimensions: 9.5 inches in height, 2.75 inches in width, and 3.5 inches in depth
Material: Crafted from wood, ensuring durability and an authentic feel for your Halloween festivities.
---
We Also Recommend