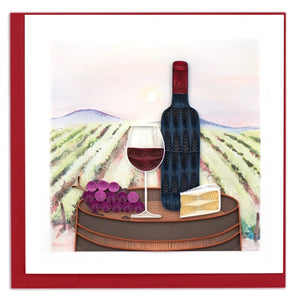 Vineyard Greeting Card
Invite a friend to a wine tasting at the vineyard with our quilled vineyard greeting card. This card perfectly captures the beauty of a vineyard in the summer. The card features a wine barrel in the foreground with a bottle of wine, filled glass, bunch of grapes and a slice of brie cheese on top of it. Behind the quilled elements is a beautiful printed background of a vineyard landscape.
Each quilled card is beautifully handmade by a highly skilled artisan and takes one hour to create. A quilled card is meant for you to share, treasure as a keepsake, or display as the work of art it is.

Certified Fair Trade Federation Member

Don't just send a card, send art!