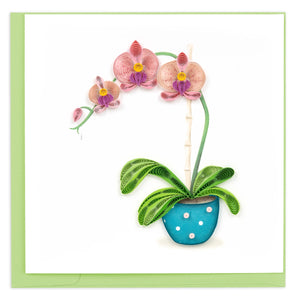 Quilled Potted Orchid NEW FOR 2023
Flower and plant lovers delight for the handmade potted orchid card. The orchid is at full bloom and will bring a sense of beauty to the receiver. This card is a beautiful keepsake and perfect for framing.
Each quilled card is beautifully handmade by a highly skilled artisan and takes one hour to create. A quilled card is meant for you to share, treasure as a keepsake, or display as the work of art it is.
Verified Fair Trade Federation Member

Don't just send a card, send art!
---
We Also Recommend