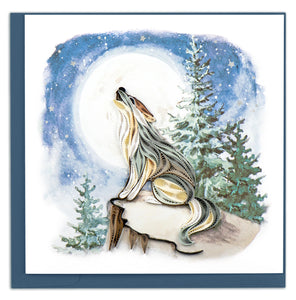 Quilled Howling Wolf Greeting Card New For 2023
Embrace the strength and unity of your wolf pack with our captivating Howling Wolf card. Symbolizing courage and resilience, this quilled masterpiece showcases the profile of a majestic wolf howling against the backdrop of a mystical full moon. Intricately crafted with paper strips in shades of gray and white, the artistry beautifully captures the essence of the wolf's fur coat, making it an inspiring and meaningful card to share words of wisdom with your loved ones.
Each quilled card is beautifully handmade by a highly skilled artisan and takes one hour to create. A quilled card is meant for you to share, treasure as a keepsake, or display as the work of art it is.
Verified Fair Trade Federation Member
Don't just send a card, send art!
---
We Also Recommend