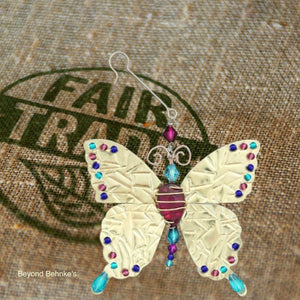 Pilgrim Imports Ornament: Golden Swallowtail Butterfly
Hang this Golden Swallowtail Butterfly anywhere in your home all year round. Made of metal with beads around it, you will be able to enjoy it each day. Add to your Christmas tree and the reflection of lights will make it a showstopper! 
Product Information:
Metals: These metal designs are composed of three different metals ~nickel, copper, and brass. There is no lead or any other harmful substance in the metals; all metal pieces are designed to be as safe as possible, with a minimum of sharp corners and edges. Only lead-free solder is used.
Beads: Three different styles, colors, and sizes of beads are used in these ornaments. The beads are always well attached to the ornaments; however, you should still care for younger children.
The ornaments measure about 3/12" wide by 4" long. Thickness may vary depending on each piece. Hooks are included on the ornaments. 
Fairtrade ornaments decorate lives. Villagers in Chiang Mai, Thailand, began crafting metal Christmas ornaments over twenty years ago. Today, with the help of Pilgrim Imports, over 400 artisans are employed and earning a living wage - helping to make your holidays even brighter.
---
We Also Recommend