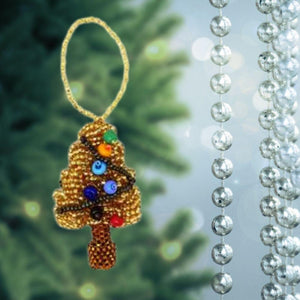 Ornament Beaded Xmas Tree Gold
Handmade and Fairly Traded. Our beaded Gold Tree ornaments and pins are made by a women's co-operative in a small village on the shores of Lake Atitlan in Guatemala.
The women work in groups of five or so to produce these designs. The glass beads are placed in a multicolored pile upon a flat surface in front of each woman and are picked up on needles held between each woman's thumb and index finger in a process so quick and precise that it seems like sleight of hand. As beads accrue, the sculpture emerges. 
Beaders must learn to weave or sculpt each new design separately, and to achieve the uniformity necessary they must memorize hundreds of steps for each figure. Experienced beaders can produce up to two pieces in a day.
---
We Also Recommend