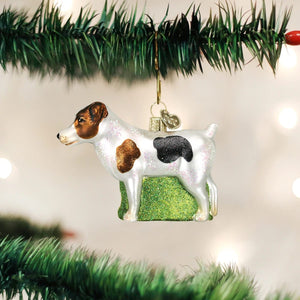 Old World Jack Russell Terrier Ornament
The Jack Russell Terrier is a small terrier that has its origins in fox hunting in England. It is principally white-bodied and smooth, rough or broken-coated and can be any color. Jack Russells are an energetic breed that rely on a high level of exercise and stimulation. 

Dogs selflessly give humans their unconditional love and loyalty. Throughout history, dogs have been faithful friends and workmates, even giving their lives to protect or rescue their owners. No wonder dogs are considered man's best friend.
Jack Russell Terrier ornament
It's adorable! I bought it for some friends who are long-time Jack Russell lovers (they currently have two), and I can hardly wait to give it to them.
aww I am so glad you like it!! We are a Jack Russell Family. Or at least we use to be..
---
We Also Recommend