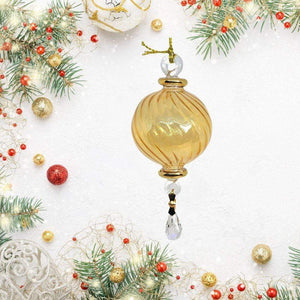 Egyptian Museum Glass Round Yellow Ball with Asfour Crystals 0-549
For years Behnke Nurseries was proud to carry these beautiful ornaments by Egyptian Museum Glass. Now they are available to you on our online gift shop. Each ornament comes in different colors unless otherwise mentioned. 
This 3.5" round yellow ball is perfect for a small table top tree. With gold trim and Asfour Crystal 
Egyptian Museum products are all handmade, mouth-blown in Egypt of German Pyrex glass. A treasured art form from the past has become an heirloom for the future.
Asfour Crystal is an Egyptian crystal manufacturing company that produces crystal pieces under its own name. The company produces clear and coloured crystals for diverse uses including lighting, accessories, fashion pieces, chandeliers, figurines and special projects.
---
We Also Recommend