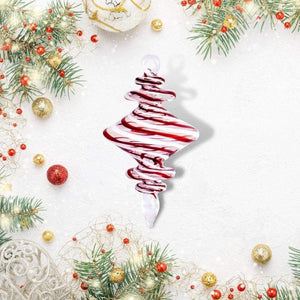 Egyptian Museum Glass Red & White Twisted Sphere Ornament 5.5" 0-172
For years Behnke Nurseries was proud to carry these beautiful ornaments by Egyptian Museum Glass. Now they are available to you on our online gift shop. Each ornament comes in different colors unless otherwise mentioned. 
5.5 inch Red & White Twisted Sphere Shape Ornament 
Egyptian Museum products are all handmade, mouth-blown in Egypt of German Pyrex glass. A treasured art form from the past has become an heirloom for the future.
Egyptian Ornaments
As of today December 5th, I haven't opened the ornaments because they are a Christmas gift to me!!! I'm trying to wait until Christmas Day to open them. However, I am impressed with how carefully they are packaged and I'm sure they aren't damaged. I know they will look great next year on my white flocked tree.
WOW!! Waiting till Christmas Day! I am very impressed. Maybe next year when you put them up on your tree you can send me a photo. I was at a craft show the other day and did a whole white feather tree with all the red and white ornaments! It looked fantastic! Thank you so much for taking the time to leave a review! ~S
---
We Also Recommend