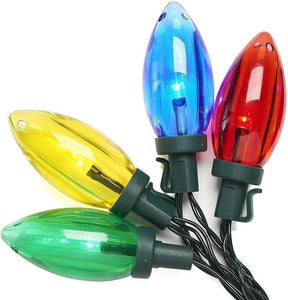 Roman Lights LED USB C9 Green Cord Light Set, 6 Ft, 10 Function Controller, 8 On/16 Off Timer
Multi-Function C9 LED light set has an LED lens with red, blue, yellow and green covers. This green cord light set has a 27.5 inch lead cord and 4 inch bulb spacing for a total length of 8.5 feet.
Light sets feature a 10 function controller for steady or various flashing pattern lights. The built-in timer keeps your lights on for 8 hours and turns them off for 16 hours.
Each light set features a unique USB connector, which is compatible with the Roman Lights Ultra-Compact Portable 2000mAh Rechargeable Power Bank, the Roman 6" White Battery Box and any other charging device with a USB connection.
Plugging into a battery pack allows you to decorate anywhere power is not available. It is perfect for lighting ceilings, patios, trees, bushes, fences and campsites.
You can plug them into any available USB port in your home, computer, car or boat.
Indoor/Outdoor.
---
We Also Recommend