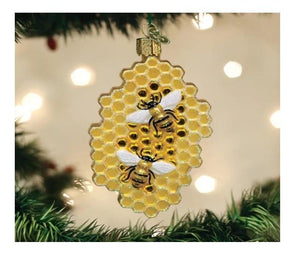 Old World Honeycomb Ornament
Welcome to the magical world of OLD WORLD CHRISTMAS!  This traditional and beautiful glass ornament was carefully mouth-blown into a finely crafted mold. Then a hot solution of liquid silver was poured inside. Finally, it was delicately hand-painted and glittered for you to enjoy and cherish as a holiday heirloom!" 
Bees are very industrious, and they must work together to produce honey that insures the hive's survival. Teams of bees build honeycombs, collect nectar and create golden honey. This glass ornament symbolizes the diligence and teamwork that are often necessary to achieve life s great rewards.
Material: glass

Size: 0.75 X 2.5 X 4 (HxLxW)
Ornaments are for decoration only. This item is not a toy.
---
We Also Recommend