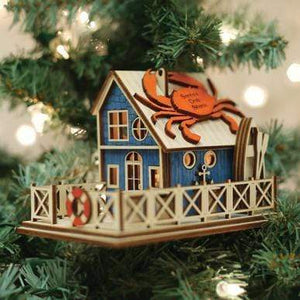 Old World Crab Shack Ginger Cottage Ornament
Introducing the Crab Shack Ginger Cottage - a beloved symbol of Maryland and Virginia's coastal charm. Picture yourself savoring delicious steamed crabs by the shore, encapsulated in this delightful creation.

Formerly showcased in our Christmas Shop, this Ginger Cottage was meticulously crafted by the skilled hands of Glen Grider from VA. With an artistic flair that borders on magic, Grider's work has been passed down to Old World Christmas, ensuring the continuation of his legacy.

Every detail of this cottage harbors a secret waiting to be discovered. When lit by a standard Christmas tree bulb, a small aperture at the base comes alive, revealing an intricately designed interior. Imprints, shapes, and characters, carefully concealed, beckon you to embark on a treasure hunt. How many hidden surprises can you unveil?

Our mission revolves around crafting exceptional wooden pieces that evoke the spirit of Christmas memories. Each Ginger Cottage is a testament to our commitment, meticulously assembled by hand to bring joy and fascination to your family. By preserving the essence of cherished moments, both past and present, our product encapsulates the warmth of nostalgia.

Explore the wonders of the Crab Shack Ginger Cottage as it comes to life with a Christmas tree bulb. As the cottage illuminates, an enchanting scene unfolds, waiting to be admired. Don't forget to linger over the details – the walkway and the window are gateways to more hidden wonders, adding an extra layer of excitement to your experience.
Material: wood


Ornaments are for decoration only. This item is not a toy.
Hard to stop at just 1
I liked the crab shack so much that I bought another as a gift. The recipient loved it, too! It has great detailing. Would recommend this line of ornaments to one and all.
I am so happyy you love this as much as I do. Before the company sold to Old World Christmas I was lucky enough to go to VA to visit the owner who designed these ginger cottages. What an amazing man and company. I love this crab shack since you can keep it up year round.
---
We Also Recommend