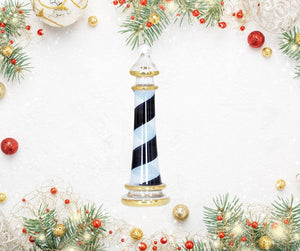 Egytian Museum Glass Cape Hatteras Lighthouse Ornament O-099
For years Behnke Nurseries was proud to carry these beautiful ornaments by Egyptian Museum Glass. Now they are available to you on our online gift shop. Each ornament comes in different colors unless otherwise mentioned. 
Cape Hatteras Lighthouse Ornament 6" high

LAST ONE has a small flaw up near the top with the black color
Egyptian Museum products are all handmade, mouth-blown in Egypt of German Pyrex glass. A treasured art form from the past has become an heirloom for the future.
The Asfour Crystal Company was established in 1961. Asfour Crystal is located in Egypt and employees over 28,000 highly skilled craftsmen & women. Asfour Crystal is one of the leading crystal companies specializing in full-cut lead crystal for chandeliers, window prisms, specialty projects, jewelry and gifts.
Cape Hatteras Lighthouse ornament
The ornament has a slight flaw and a small area where the black paint is not evenly painted along the top. Otherwise, the ornament is very nice.
as with everything that is hand made there will always be some variations in the glass. Thank you for your order and understanding.
---
We Also Recommend